FIND THE FISH COMPETITION
Pineapple & Agave FIZZ, that's f*ckn right! The FISH has been running amok in the FIZZ Factory for the past six months and the result is the tastiest FIZZ yet. Of course, Paul has always been a lover of pineapple and that sweet, sweet nectar of the succulent agave plant so it was only natural he'd pour a sh*t tonne of the two into the FISH Tank and wullllaaaaa: Pineapple & Agave FIZZ.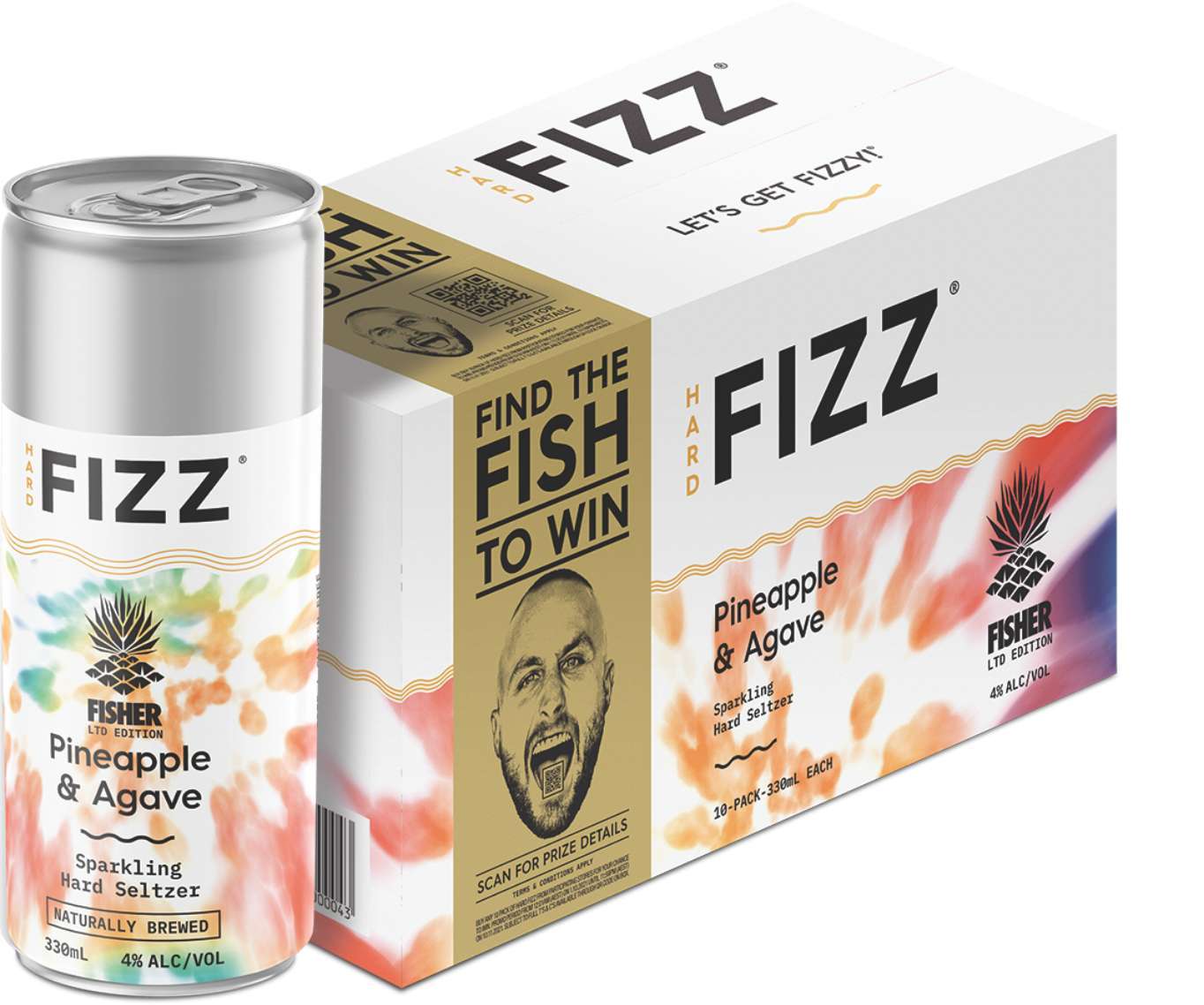 And guess f*ckn what? Not only is it an epic looking tie dye 10 pack, we've also stashed a handful of gold FIND THE FISH cans in selected cases for your chance to win the FIZZultimate prize for you and a mate.
Winners gets a double pass to FISHER's next show in Australia, two return flights from their nearest major airport to the Gold Coast, two night's accommodation, An exclusive FIZZ HQ brewery tour and enough FIZZ to put you off FIZZ LOL
So get your skates on and grab a case of FISHER's new Pineapple & Agave FIZZ. Stocks won't last.
FIZZ x FIND THE FISH Competition
TERMS & CONDITIONS
Fizzy Mates Pty Ltd ABN 79 639 187 849 t/as Hard Fizz ("Hard Fizz")
Participation in the FIZZ x FIND THE FISH Competition (the "Competition") is deemed acceptance of these Terms and Conditions.

The Promoter is Fizzy Mates Pty Ltd (ABN 79 639 187 849) t/as "Hard FIZZ" of 2/49 Lemana Lane, Miami, in the State of Queensland, telephone 1300 209 546 (Australia) ("Promoter").

Eligibility

Entry is only open to Australian residents over eighteen (18) years of age ("Eligible Entrants"). Employees, directors and management of Hard FIZZ, and their immediate families, and its agencies associated with the Competition are ineligible.
Entry into Competition
The Competition commences at 07:01 am (AEST) on 01/10/2021 and closes 5:00pm (AEST) on 31/01/2022 ("Competition Period").

There will be a potential Six (6) winners.

To enter the Competition, Eligible Entrants must, during the Competition Period:


Buy a x10 pack of Limited Edition Pineapple & Agave Hard FIZZ from any participating bottle shop; and

If they FIND THE FISH (Gold FIZZ can), they must scan the QR code, follow instructions on the winning can to enter and claim their prize.

This is a game of chance, and skill plays no part in determining the winner.

Prize winners will be any person who finds the hidden Gold FIZZ can and satisfies the eligibility requirements as set out pursuant to these Terms and Conditions.

Prize winners will be notified by email within seven (7) days of claiming their prize.

The results of the Competition will be published to Hard FIZZ's Instagram page and website (https://getfizzy.co/) within seven (7) days of the end of the Competition Period, being 07/01/2022.
The Prize
Winners of the Competition shall win an all-inclusive trip with a mate to the Gold Coast to visit the FIZZ HQ Brewery, inclusive of flights, accommodation and Double Passes to the next Fisher Show in Australia.

In the event that a winner is unable to satisfy these Terms and Conditions, forfeits, or does not claim or accept the prize within fourteen (14) days of being notified by Hard FIZZ that they are the winner, the winner agrees and acknowledges that they forfeit their entitlement to claim the prize.

In the event of any non-compliance, including but not limited to fraudulent activity, misrepresentation, criminal activity, and/or any non-compliance of Hard FIZZ's Terms and Conditions, by a winner, an alternative winner may be selected by Hard FIZZ. Any person attempting to defraud or in any way tamper with this Competition will be ineligible for prizes and may be prosecuted to the full extent of the law.

If there is a dispute as to the identity of an Eligible Entrant, Hard FIZZ's determination on who to award the prize to is final.

The total Prize pool value is up to AUD$18,000.00, with each of the six (6) prizes valued at Three thousand dollars ($3,000.00) each.

The Prize, or any unused portion of the prize, is not transferable or exchangeable and cannot be taken as cash. The prize is not redeemable for cash or other goods and services. Hard FIZZ may, at its sole discretion, agree to transfer the prize to a friend or family member of the winner.

The winner must accept the flights as offered by Hard FIZZ, and any additional costs for changes to flights shall be borne solely by the winner. The exact dates of the flights may be amended at the sole discretion of Hard FIZZ and will be subject to flight availability and airline schedules.

Hard FIZZ accepts no responsibility for any variation in the prize values.

The Prize does not include transfers, food, or travel whilst in the city, or extended and additional flights, and is limited to the airfares, accommodation and tour tickets only.

All taxes on any prize won are the sole responsibility of each winner, including, without limitation, any federal or state taxes which may be deemed applicable in such winner's jurisdiction of residence. This Competition shall be governed by the laws of Australia. By participating in this Competition, participants agree that the laws of Queensland, Australia, shall have jurisdiction over any dispute or litigation arising from or relating to this Competition.

Prizes must be claimed by 31/01/2022 at 5:00pm (AEST). In the event of an unclaimed prize, the prize will be redrawn on 11/11/2021 at 12:00 pm AEST via Hard FIZZ's Instagram page. The winners of the redraw will be notified by email within seven (7) days of the redraw. The results of the redraw will be published to Hard FIZZ's Instagram page within seven (7) days.
General
By entering this Competition the Entrant agrees that the decisions of Hard FIZZ in all matters regarding this Competition are final and binding.

Except where legally prohibited, acceptance of the prize constitutes permission for Hard FIZZ to use the winner's name, photograph, likeness, voice, address (city and state only), testimonial, and the winning content, in printed, broadcast, or other media, whether now known or hereafter developed, in perpetuity, in any manner it deems appropriate in connection with promoting this or any other contest of Hard FIZZ and/or promotion sponsored by it, without further compensation to the winner.

By participating and entering the Competition, the Eligible Entrant agrees that Hard FIZZ collects participants' personal information in order to conduct the Competition. If the information requested is not provided, the participant may not participate in the promotion. A request to access, update or correct any information should be directed to Hard FIZZ.

By participating and entering the Competition, the Eligible Entrant agrees that Hard FIZZ and those involved in the development, production (including prize suppliers), implementation and distribution of this Competition and their respective parent companies, affiliates, subsidiaries, service providers, and agencies, and their directors, officers, agents, employees, attorneys, and any other person or entity associated with such entities and/or promotion (hereinafter collectively called "Promoters"), shall not be liable for any claims, damages, losses or injuries, including any third party claims, arising from or relating to, in whole or in part, this Competition, including entry and participation in this Competition and acceptance, possession, use or misuse of the prize. All participants further agree that in the event of any third party claims, damages, losses or injuries, arising from or relating to such participant's participation in this Competition, such participant will indemnify and hold Hard Fizz and the Promoters harmless from and against any and all such claims, including reasonable legal fees related thereto.

Hard FIZZ reserves the right, in its sole discretion, to cancel or suspend this Competition should viruses, bugs or other causes beyond its control corrupt the proper administration or security of the Competition. Hard FIZZ reserves the right to modify the rules of the Competition in any way or at any time, as long as reasonable notice is given.

To the extent that any term or condition of this Competition is void or prohibited by law it shall be severable and the balance of Terms and Conditions shall be subject to all relevant legislative requirements, including, without limitation, federal and state laws and regulations.

Hard FIZZ does not warrant or guarantee the fitness for purpose, merchantability, functionality or suitability of any prize.

Hard FIZZ reserves the right to disqualify, at its sole discretion, any entry where it reasonably suspects that such entry is prohibited by these Terms and Conditions, any applicable law, or is otherwise deemed inappropriate.

Hard FIZZ reserves the right to verify the validity of entries and Eligible Entrants (including the entrant's age and identity) and reserves the right to disqualify any Eligible Entrant for tampering or corrupting the entry process or for submitting an entry that is not (at the sole discretion of Hard FIZZ) in accordance with these Terms and Conditions. Any failure by Hard FIZZ to enforce any of its rights at any stage does not constitute a waiver of those rights.

Hard FIZZ will not be held responsible or liable for entries that are delayed, lost, corrupted, misdirected, misdelivered, incorrect or incomplete, and such entries will be not be eligible for this Competition.

Hard FIZZ will not be held responsible or liable for any internet malfunction, interference or breakdown which prevents the participant from entering, including but not limited to any technical malfunctions of any telephone network, computer on-line system, computer equipment or software; program malfunctions or other failures; delayed computer transactions or network connections; any errors of any kind, whether human, mechanical or electronic; or any combination thereof, including, without limitation, any injury or damage to the computer of any participant or any other person related to or resulting from downloading any part of this Competition.

Nothing in these Terms and Conditions limits, excludes or modifies or purports to limit, exclude or modify the statutory consumer guarantees as provided under the Competition and Consumer Act (Commonwealth of Australia) as well as any other implied warranties under the ASIC Act (Commonwealth of Australia) or similar consumer protection laws in the States and Territories of Australia ("Non-Excludable Guarantees"). Except for any liability that cannot by law be excluded, including the Non-Excludable Guarantees, Hard FIZZ (including its respective officers, employees and agents) excludes all liability (including negligence), for any personal injury; or any loss or damage (including loss of opportunity); whether direct, indirect, special or consequential, arising in any way out of the promotion.

Except for any liability that cannot by law be excluded, including the Non-Excludable Guarantees, Hard FIZZ (including its respective officers, employees and agents) is not responsible for and excludes all liability (including negligence), for any personal injury; or any loss or damage (including loss of opportunity); whether direct, indirect, special or consequential, arising in any way out of: (a) any technical difficulties or equipment malfunction (whether or not under Hard FIZZ's control); (b) any theft, unauthorised access or third party interference; (c) any entry or prize claim that is late, lost, altered, damaged or misdirected (whether or not after their receipt by Hard FIZZ) due to any reason beyond the reasonable control of Hard FIZZ; (d) any variation in prize value to that stated in these Terms and Conditions; (e) any tax liability incurred by a winner or entrant; or (f) taking of or use of a prize.

Hard FIZZ collects personal information ("PI") in order to conduct the promotion and may, for this purpose, disclose such PI to third parties, including but not limited to agents, contractors, service providers, prize suppliers and, as required, to Australian regulatory authorities. Entry is conditional on providing this PI. Hard FIZZ will also use and handle PI as set out in its Privacy Policy, which can be viewed at https://getfizzy.co/pages/privacy-policy. The Privacy Policy also contains information about how entrants may access, update or correct their PI, how entrants may complain about a breach of the Australian Privacy Principles or any other applicable law and how those complaints will be dealt with. All entries become the property of Hard FIZZ.
Force Majeure
For the purpose of these Terms and Conditions, a Force Majeure Event means an event, or factors, occurring that is outside the control of Hard FIZZ and therefore effects its ability to undertake performance in accordance with these Terms and Conditions.

A Force Majeure Event includes riots, act of Gods (natural disaster, earthquake), global pandemic, act of war, hostilities, terrorism, civil disorder, and / or other unforeseeable circumstances beyond the control of Hard FIZZ, against which would have been unreasonable to take precaution and which Hard FIZZ cannot avoid even by using its best efforts.

Where the event is postponed or cancelled because of consequences resulting from a Force Majeure Event, i.e., government imposed lock down, restrictions surrounding public entertainment, border closure, and / or flight cancellations, and Hard FIZZ is not capable of fulfilling its obligations, Hard FIZZ reserves the right, in its sole discretion to:

modify the winning prize to one that is of similar price in value;

suspend the Competition and/or event to a later date; or

terminate the Competition and/or the event;

Hard FIZZ will notify the winners of changes to the prizes within a reasonable time.

Hard FIZZ is not deemed to be in breach of its obligations within these Terms and Conditions nor shall Hard FIZZ incur any liability to the winners for any losses and damages, of any nature whatsoever, incurred or suffered because of, or actions imposed, the Force Majeure Event.

Authorised under: ACT Permit No. TP 21/01441 NSW Authority No. TP/01273, and SA Permit No. T21/1388.