Liquid error (sections/main-article line 31): Could not find asset snippets/blog-video.liquid
FIZZ x Tigerlily VIP Giveaway

TO DANIEL SAN MANLY APRIL 16TH

For your chance to win a VIP experience
Tag 3 friends and get them to sign up to the FIZZ CLUB
Entrants must be signed up to FIZZ Club to win. Prize includes free buckets of FIZZ for the duration of the show, VIP area for you and your x3 mates and a fizz prize pack
Winners will be drawn 14th April and have to make there own way to Manly Australia
#letsgetfizzy #passthefizz #hardfizz ⁠
@taylorsrooftop @danielsanmanly @northieshotel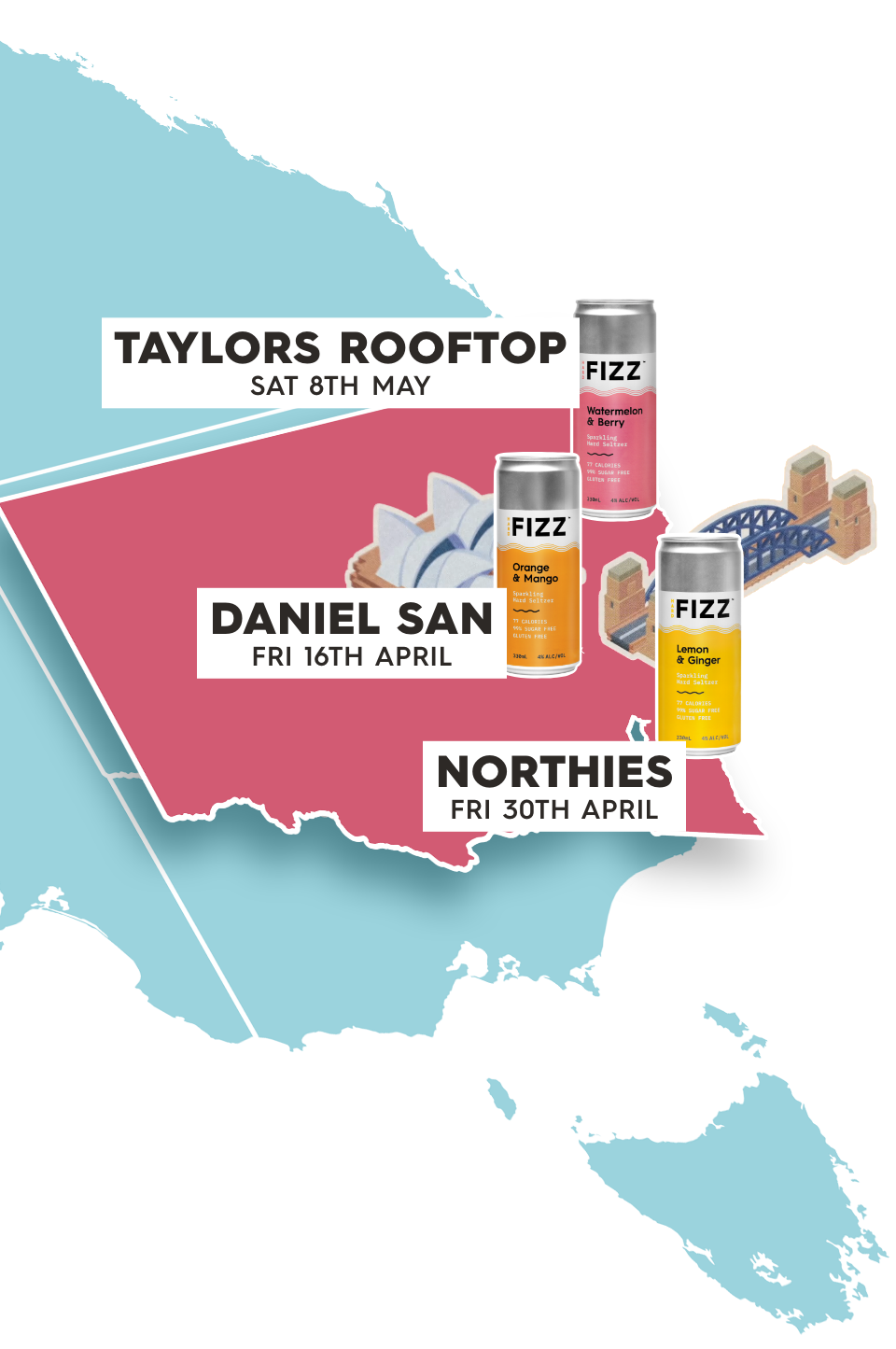 Fizz x Daniel San VIP Competition Terms and Conditions
Fizzy Mates Pty Ltd ABN 79 639 187 849 t/as Hard Fizz ("Hard Fizz")
By entering into the Fizz x Daniel San Competition (the "Competition"), you agree that information regarding how to enter forms part of these Terms and Conditions, and that entry into this Competition is deemed acceptance of these Terms and Conditions.
Eligibility
Entry is only open to Australian residents over eighteen (18) years of age ("Eligible Entrants").

employees, directors and management of Hard Fizz, and their immediate families, and its agencies associated with the Competition are ineligible.
Entry into Competition
The Competition commences at 07:01 pm (AEST) on Thursday 8 April 2021 and closes when the last entrant is received by Hard Fizz by 5:00pm (AEST) on 14th April 2021 ("Competition Period").

One (1) winner will be chosen for the duration of the Competition Period (for the avoidance of doubt, a winner will be chosen on 14th april 2021,

 

To enter the Competition, Eligible Entrants must, during the Competition Period:

have a public Instagram account; and

make a post on Instagram using the the tag @hard_fizz & @djtigerlilly on the post

Hard Fizz reserves the right to disqualify, at its sole discretion, any entry where it reasonably suspects that such entry is prohibited by these Terms and Conditions, any applicable law, or is otherwise deemed inappropriate.

Hard Fizz reserves the right to verify the validity of entries and Eligible Entrants (including the entrant's age and identity) and reserves the right to disqualify any Eligible Entrant for tampering or corrupting the entry process or for submitting an entry that is not (at the sole discretion of Hard Fizz) in accordance with these Terms and Conditions. Any failure by Hard Fizz to enforce any of its rights at any stage does not constitute a waiver of those rights.

Hard Fizz will not be held responsible or liable for entries that are delayed, lost, corrupted, misdirected, misdelivered, incorrect or incomplete, and such entries will be not be eligible for this Competition.

Hard Fizz will not be held responsible or liable for any internet malfunction, interference or breakdown which prevents the participant from entering, including but not limited to any technical malfunctions of any telephone network, computer on-line system, computer equipment or software; program malfunctions or other failures; delayed computer transactions or network connections; any errors of any kind, whether human, mechanical or electronic; or any combination thereof, including, without limitation, any injury or damage to the computer of any participant or any other person related to or resulting from downloading any part of this Competition.
Judging the Winner
The winner will be the most original and creative entry received by Hard Fizz and which satisfies the eligibility requirements as set out pursuant to these Terms and Conditions.

This is a game of skill, and chance plays no part in determining the winner. Each valid entry received during the Competition Period will be judged by a panel of three judges based on the creativity and originality of each entry.

Winners will be notified by Instagram direct message by no later than 5:00pm (AEST) on:

Wednesday 14th April 2021

Hard Fizz's decision is final and Hard Fizz will not enter into any correspondence, argument or dispute regarding the result.

Each Eligible Entrant may only win one prize. For the avoidance of doubt, this means that if an Eligible Entrant is the winner for the first week of march, that Eligible Entrant will be automatically disqualified from entering into the Competition for the remaining weeks.
The Prize
the winner of the Competition shall win:

A vip experience at Daniel San to watch Tigerlily play, Will also receive x3 cartons of fizz on the night

In the event that a winner is unable to satisfy these Terms and Conditions, forfeits, or does not claim or accept the prize within fourteen (14) days of being notified by Hard Fizz that they are the winner, Hard Fizz reserves the right to award the prize to the Eligible Entrant who was deemed second after the original winner.

In the event of any non-compliance, including but not limited to fraudulent activity, misrepresentation, criminal activity, and/or any non-compliance of Hard Fizz's terms and conditions, by the winner, an alternative winner may be selected by Hard Fizz. Any person attempting to defraud or in any way tamper with this Competition will be ineligible for prizes and may be prosecuted to the full extent of the law.

If there is a dispute as to the identity of an Eligible Entrant, Hard Fizz's determination on who to award the prize to is final.

Total Australian dollar prize value per prize is One Hundred dollars ($500).

The prize offered is not transferable or exchangeable and cannot be taken as cash. The prize is not redeemable for cash or other goods and services. Hard Fizz may, at its sole discretion agree to transfer the prize to a friend or family member of the winner.

Hard Fizz accepts no responsibility for any variation in the prize values.

All taxes on any prize won are the sole responsibility of each winner, including, without limitation, any federal or state taxes which may be deemed applicable in such winner's jurisdiction of residence. This Competition shall be governed by the laws of Australia. By participating in this Competition, participants agree that the laws of Queensland, Australia, shall have jurisdiction over any dispute or litigation arising from or relating to this Competition.
General
By entering this Competition the participant agrees that the decisions of Hard Fizz in all matters regarding this Competition are final and binding.

Except where legally prohibited, acceptance of the prize constitutes permission for Hard Fizz to use the winner's name, photograph, likeness, voice, address (city and state only), testimonial, and the winning content, in printed, broadcast, or other media, whether now known or hereafter developed, in perpetuity, in any manner it deems appropriate in connection with promoting this or any other contest of Hard Fizz and/or promotion sponsored by it, without further compensation to the winner.

By participating and entering the Competition, the Eligible Entrant agrees that Hard Fizz collects participants' personal information in order to conduct the Competition. If the information requested is not provided, the participant may not participate in the promotion. A request to access, update or correct any information should be directed to Hard Fizz.

By participating and entering the Competition, the Eligible Entrant agrees that Hard Fizz and those involved in the development, production (including prize suppliers), implementation and distribution of this Competition and their respective parent companies, affiliates, subsidiaries, service providers, and agencies, and their directors, officers, agents, employees, attorneys, and any other person or entity associated with such entities and/or promotion (hereinafter collectively called "Promoters"), shall not be liable for any claims, damages, losses or injuries, including any third party claims, arising from or relating to, in whole or in part, this Competition, including entry and participation in this Competition and acceptance, possession, use or misuse of the prize. All participants further agree that in the event of any third party claims, damages, losses or injuries, arising from or relating to such participant's participation in this Competition, such participant will indemnify and hold Hard Fizz and the Promoters harmless from and against any and all such claims, including reasonable legal fees related thereto.

Hard Fizz reserves the right, in its sole discretion, to cancel or suspend this Competition should viruses, bugs or other causes beyond its control corrupt the proper administration or security of the Competition. Hard Fizz reserves the right to modify the rules of the Competition in any way or at any time, as long as reasonable notice is given.

To the extent that any term or condition of this Competition is void or prohibited by law it shall be severable and the balance of Terms and Conditions shall be subject to all relevant legislative requirements, including, without limitation, federal and state laws and regulations.

Hard Fizz does not warrant or guarantee the fitness for purpose, merchantability, functionality or suitability of any prize.